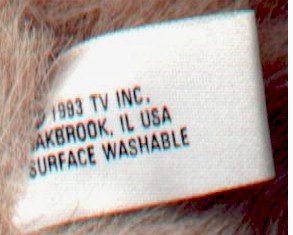 Attics With the 1993 "TV" Error
As more "TV" errors are identified, they will be added to the list. If you have an Attic Treasure™ with the "TV" error and have not reported it, we would love to hear from you. Please e-mail Kathy at the name, generation, and the quantity you have. Your help is greatly appreciated.
For a complete listing of all tush tags, please click here.
| | | | |
| --- | --- | --- | --- |
| Name | Generation | Name | Generation |
| Abby | 4th | Madison | 2nd |
| Cassie | 4th | Oscar | 4th |
| Checkers | 4th | Purrcy | 4th |
| Cody | 4th | Rebecca | 4th |
| Emily | 3rd | Sara | 3rd |
| Grover | 4th | Tyler | 2nd |
| Grover Gold | 4th | Wee Willie | 2nd |
| Jeremy | 4th | Whiskers | 1st |