The Mysterious Six Attic Treasures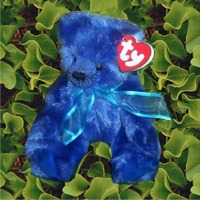 In July 2000, when the newly introduced June Attic Treasures first started hitting the shelves, several collectors reported an interesting find. River, the blue bear, style #6237, with a tag line of "Go With The Flow!" had been discovered bearing a hang tag with the name of Huntly printed upon it, style #6238, and a tag line reading, "Oh So Sly!" In all, approximately twenty Rivers with Huntly tags were reported. Collectors speculated Huntly was a future Attic fox yet to be announced by Ty. But that was not to be the case.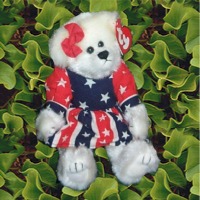 Then in December of the same year, a Delaware collector discovered two mistagged Frannys. Franny, style #6229, is a white bear wearing a patriotic red, white, and blue dress. Her tag line reads, "Hip Hip Hurray For The USA!" The mistagged Frannys, however, had hang tags bearing the name of Dalia and style #6219. Dalia's tag line is "Pack Up Your Troubles!"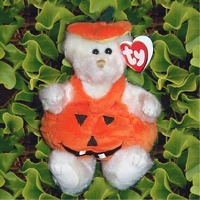 Most recently, four or five Carvers were discovered in October 2001 with Willamina hang tags. Carver is a white bear wearing a pumpkin suit. His style number is 6271, and his tag line reads, "Carve A Place In Your Heart For Me!" The style number on the Willamina tag is 6227 and the tag line is "You're Aces!"
Huntly, Dalia, and Willamina have never been introduced by Ty. They were never pictured in a Ty catalog or flyer and were never available for order by retailers.
Last year, we became aware of Huntly and Dalia when they appeared at a Beanie show, and also at a flea market in the Chicago area. Locals informed us that there were also four other Attic Treasures which had surfaced in the Chicago area . Four of the six styles were purchased by a collector at a Chicago area garage sale this summer and are pictured below.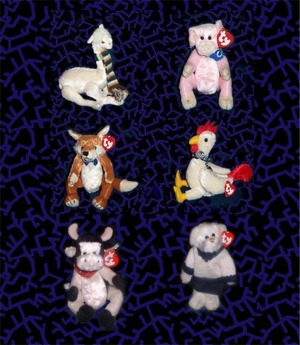 Upper left

Dalia

Upper right

Hamlet

Middle left

Huntly

Middle

right

Benedict

Lower left

Belle

Lower right

Willamina
The style numbers, animal types, and tag lines of all six are summarized in the chart below.
| | | | |
| --- | --- | --- | --- |
| Name | Style # | Type | Tag line |
| Belle | 6242 | Cow | "Milk It For All It's Worth!" |
| Benedict | 6223 | Rooster | "Strut Your Stuff!" |
| Dalia | 6219 | Llama | "Pack Up Your Troubles!" |
| Hamlet | 6240 | Pig | "You've Got Style!" |
| Huntly | 6238 | Fox | "Oh So Sly!" |
| Willamina | 6227 | Bear | "You're Aces!" |
It remains unclear at this time why Ty would produce these six styles and then not release them. Another question that remains unanswered is whether Ty will permit the sale of the six on the secondary market. Although Ty has discontinued the Attic line, many die-hard collectors would love to add these elusive pieces to their collections and, more importantly, would like to know what is the real story behind "The Mysterious Six Attic Treasures."